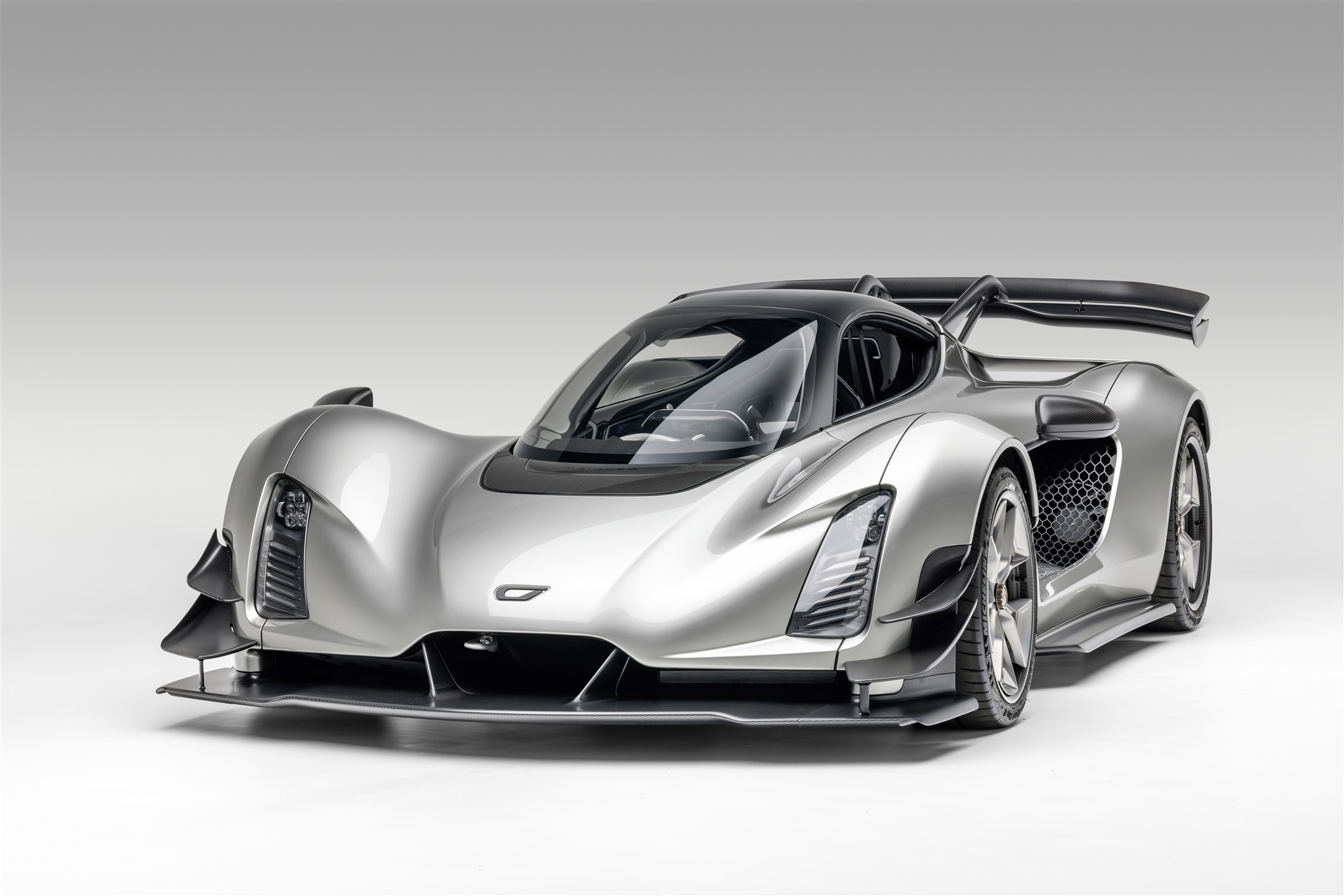 Dominating Performance
A Revolutionary Hypercar Built for the 21st Century.
Czinger represents the pinnacle of automotive engineering, innovation, automotive art and technology⁠-⁠based design.
In⁠-⁠line seating, dominating performance and revolutionary technology
The 21C was created by a team of designers, engineers and scientists using a revolutionary, Human⁠-⁠AI production system
This in⁠-⁠house invented system integrates automated design and optimization software, patented additive manufacturing driven processes, high accuracy automated assembly, and novel performance materials The 21C is the apex of Human⁠-⁠AI creativity
  

21C Powertrain

The 21C's hybrid powertrain uses the world's most power dense production IC engine as its foundation. It is a 2.88 liter, flat⁠-⁠plane crank V8 with twin turbos located mid⁠-⁠vehicle. The V8 is coupled with an 800V electric drive and regen system. An e⁠-⁠motor drives each front wheel and the batteries are charged during operation both through regenerative braking and a Motor Generator Unit (MGU) using a gear drive that is attached to the IC engine. The total strong hybrid system delivers a peak output of 1250hp (1233bhp). 
Seven⁠-⁠Speed Sequential Transaxle Gearbox

Our powertrain includes a seven⁠-⁠speed sequential transaxle gearbox with an electro-hydraulically actuated multi-plate clutch to complete the entire drivetrain. 

  
---
Vehicle specifications
Performance
Top Speed 405 kph (253 mph) with low drag configuration 
0 - 100 kph (62 mph) 1.9s
0 - 300 kph (186 mph) 8.5s
0 - 400 kph (248 mph) 21.3s
0 - 300 - 0 kph (186 mph) 13.8s
0 - 400 - 0 kph (248 mph) 27.1s  

1/4 mile 8.1s 

Hybrid Power (Engine + EV)  
1,250 hp @ 10,500rpm
1,350 hp upgrade available

Engine  
Twin-turbo V8
2.88 Liter 950 hp  
550 ft.lb 11,000 rpm redline
Power density 330 hp/liter

Electric Drive (EV)  
300 hp electric front axle with regenerative braking and torque vectoring
2.8 kWh, 420 hp high performance battery pack
Weight  
Dry weight 1,250 kg (2,756 lbs) 

Braking  
100-0 kph 30.5m (100ft)  
Front
6 pot monoblock caliper
410mm carbon ceramic rotor  
Rear
4 pot monoblock caliper
390mm carbon ceramic rotor

Gearbox  
7 speed sequential
automated manual transmission
hydraulically actuated clutch

Downforce  
638kg downforce at 161 kph (100 mph)
2,552kg downforce at 322 kph (200 mph)
 
---